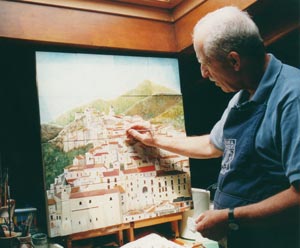 Michele Criscuolo, professionally known as CRIS, was born in Amalfi in 1942. A former government official, he now lives Senna Comasco with Maria Grazia, his wife.
A self-taught painter, he produces works on sculpted plywood shapes, assembled in overlays, decorated in tempera and acrylic, and signs them CRIS. They are truly unique pieces: pictures or panels that are primarily figurative in nature (landscapes, residences, abodes). He also produces works on commission.
There is a photographic record of all the artist's works, together with the cataloguing and the writing of the certificates of authenticity.
He has held one-man exhibitions of his work throughout Italy and has taken part in several national competitions receiving both prizes and awards.
Interview with the artist: "Relazione e arte. Michele Criscuolo, artista nella pratica" - editor: www.ilfont.it